The Domus Artium 2002 (DA2) Center in the city of Salamanca, Spain, is hosting until March 2020 the exhibition "A round trip", an exhibition of the Luciano Méndez Sánchez Contemporary Art Collection, one of the largest collectors of Cuban art today, who for the first time brings part of his catalogue to his hometown.
Until March 2020, around a hundred pieces can be seen in rooms 2, 3 and 4 of the DA2, including: paintings (72), sculptures (15), photographs (5), photographic series (2), videos (3) and installations (2), out of a total of 216. Visiting hours are from Tuesday to Friday from 12:00 to 2:00 p.m. and from 5:00 p.m. to 8:00 p.m.., and Saturdays, Sundays and holidays from 12: 00 m to 3:00 p.m. and from 5:00 p.m. to 9:00 p.m.
Among the artists who exhibit their works in this show are young talents and most recognized names in the Cuban visual arts such as Roberto Fabelo, Luis Enrique Camejo, Vicente Hernández, Daniela Águila, Mabel Poblet, Alfredo Sosabravo, Niel Reyes, Roberto Chile, Gabriela Pez and Gabriel Sánchez Toledo, Pedro Pablo Oliva, Nelson Domínguez, among others. 
Luciano Méndez Sánchez began to collect art after his first visit to Cuba, in the first decade of the new century due to professional circumstances, making Cuba his second home, where he learned to appreciate the most notorious features of his culture, especially the plastic arts. The inclusion of Méndez in Cuba's artistic panorama today allows for the existence of an extensive art collection that encompasses more than 600 works, part of which has arrived in Salamanca to be exhibited in the rooms of the DA2 contemporary art center.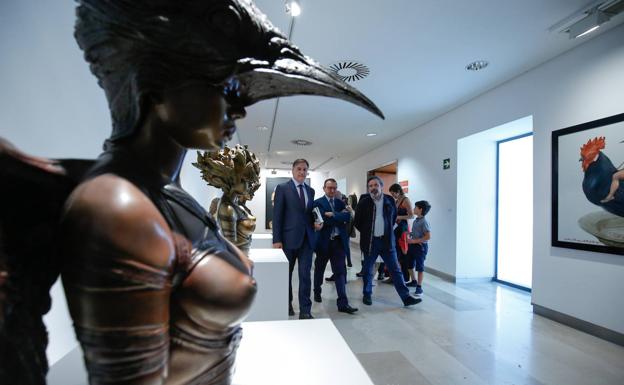 This exhibition has been made possible thanks to the collaboration agreement signed by the Mayor of Salamanca, Carlos García Carbayo, and Luciano Méndez last March, where the DA2 will house 216 works of Cuban contemporary art for four years. "A round trip" aims to delve into all those cultural, social, anthropological and, of course, artistic aspects that for more than 500 years have forged a relationship between Cuba and Spain, an exhibition that offers a journey through the most representative of contemporary Cuban art of the last five decades. From Maxima Gallery-Studio celebrate this event with the artists who also form part of our catalogue.